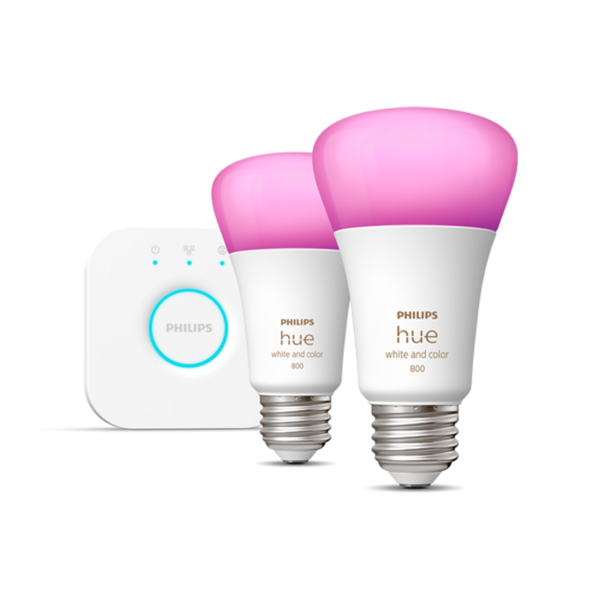 Starter Kit
Smart Light Features
The easiest way to get started with smart light is with a Philips Hue starter kit. Containing lights and a Hue Bridge, it gives you access to the complete suite of smart lighting features for inside and outside your home.
Custom light scripts for each Spotify song
Philips Hue + Spotify uses a song's individual metadata to create a customized light script that tells your lights exactly how to react to not just the beat, but the mood and genre of the music, too.
Create the perfect atmosphere for a relaxing night on the couch with soft, warm light, liven up your mornings with cool light, and automate all your lights throughout the day.
With thoughtful designs and convenient ways to control your lights — dimmer switches, sensors, and even your voice — Philips Hue turns your everyday lighting into an experience.
Personalize the experience
Choose the bulbs, lamps, or fixtures that fit your home and your personality. Customize the settings to fit your needs, letting your light reflect the way you live.
Set the right shade of white light
Use thousands of shades of warm-to-cool white light to get you in the right mood to work, play, or relax — no matter what time of day it is. Start your morning off with cool white light, and then settle down with warmer, golden tones.
Transform your home into the perfect party venue, bring a bedtime story to life, and set any mood you like with millions of different colors of light. Use preset scenes available in the Philips Hue app or design your own custom scenes.
Fall asleep easier, wake up naturally
Set your lights to slowly brighten in the morning to help you start your day feeling calm and refreshed. In the evening, relaxing warm white lights dim until they're off to help you prepare for a good night's sleep.
Unlock the full suite of smart lighting features
The brains of your smart lighting system, the Philips Hue Bridge unlocks all the features of Philips Hue. Set automations that turn your lights on or off, use and customize smart accessories such as the Hue smart button, extend your setup with outdoor smart lights, and more.
Philips Hue + Spotify
Feel the music with the first deep integration of lighting and music